I am so excited because the day of questions with my dream boat bloggy friend Tamara (Yes, THAT Tamara!) has finally arrived! ASK AWAY FRIDAY LIVES! PS. This is my first Ask Away Friday. YAY!
You all know her, I mean, you have to! She's royalty- the Comment Queen herself, Tamara Like Camera. I don't know how we came to know each other but I'm so glad we did. She is the talented photographer, the published writer, the sensitive and bubbly sweetheart living in Massachusetts who has spent her anniversary searching for moose (literally) and takes the most whimsical photos of her two children who are unfairly adorable. Her daughter, Scarlet, says the most outlandish things that will leave you laughing in front of a computer screen and her son Des, is constantly looking to the sky and giving me baby fever. Her husband Cassidy cooks, her dog Athena looks like a fox, and when I finally meet Tamara (it's gonna happen eventually!), I'm going to go all fan girl on her. Oh and bake her cookies. She likes cookies. You can check out my questions and her answers here.
What is #AskAwayFriday? Well…
#AskAwayFriday was created by the amazing Penny from
Real Housewife of Caroline County
as a place for us to connect with other bloggers by asking them ten questions to really get to know them. The sky is the limit with the questions you ask!
Meeting other bloggers and making new friends is one of the best parts of this online world!
Visit them all!!!
Tamara from Tamara Like Camera,
Tiffany from Mrs. Tee Love Life Laughter,
Christy from Uplifting Families,
Stacey from This Momma's Ramblings
and
Amber from Bold Fit Mom
Introducing this week's amazing co-host…Shelly from DIY Mama!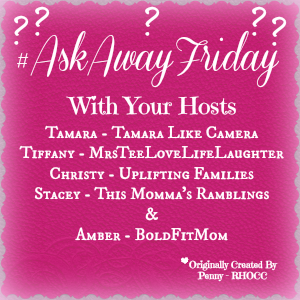 1. Why are you so cool? Just kidding. My first question is really - how did you meet your husband? How did he win you over? How did you win him over?

OMG I'M COOL!? Oh wait, you're kidding? Ouch! lol...I had a job at Lowes during my senior year in high school and there was this guy that would constantly annoy me by calling me up at my register to tell me I was doing a "great job." One day my car broke down and that same guy insisted I take his car on my lunch break. I instantly considered him a friend. After I graduated I had plans to move from California to Seattle and when I did, he followed me a couple weeks later. I thought he was crazy…now I love crazy. But what really sold me was his thoughtfulness and reliability. He will literally drop anything to save my day and then bring me my favorite cup of coffee just for fun. OMG I MISS HIM NOW!


2. Got this question from Lisa of The Golden Spoons. What is your most viewed post ever and why do you think it's so popular?
Ugh, I hate my
most viewed post
. It's the before/after baby body post. I can only assume it's the highest in traffic because people love seeing how fat I was. jk! But really, having went from 119lbs to
172lbs
176lbs I think it might be popular because it shows that the pregnancy weight can eventually be dropped.
3. What is something you look back on and think, "I can't believe I did that, but I wouldn't go back and change it!"
I was tricked into leaving a deposit for a car I was considering to buy, and once I decided against it and reached out to the business I was met with a "no one put a gun to your head, kiss your deposit goodbye." Because I worked at a law firm, I proceeded to write a very legal letter insinuating that I was an attorney, and quoted all the law I was going to use to take their business down. I had my deposit returned same day…lol
4. I've seen some very heartfelt and thought-provoking posts from you about animals, tragedies, social issues, etc. Say you got a large sum of money to donate/travel/do good in this world. Where would you spread out that money as a first priority or priorities?
I had to think about this for a while because so many causes move me. After much consideration, I'd use a large sum of money to reform homelessness in the USA. Not just reform the homeless, but the way people view the homeless because that's a big part of the problem.
5. What's your favorite animal? Have you ever seen one? Will you ever see one?
I love all animals! But since you keep making me pick things (lol) I'm going to go with elephants because they are so smart, sweet, mourn the loss of their own and have that special sparkle in their eye that I can connect with. I have seen elephants! But each time I do I get very sad because they're not in the wild.
6. Where's your dream spot to travel WITH Dylan? It could be a place you've been that you want to show him, or a brand new place where you show him something about the world?
I want to say Hawaii because it's such a beautiful and special place for me but I'd really love to take Dylan to the town in Germany where my mom and her family are from. I was 8 the first time I visited that side of the world and it opened my eyes to a whole new way of living.
7. Where's your favorite place to take out-of-town guests?
I don't have a favorite place but my husband LOVES to give out of towners the "Hollywood" tour. I cant tell you how many times I've been to Los Angeles just to show people where such and such celebrity lives/lived and landmarks like the Hollywood sign, Rodeo drive, The Ivy…things that locals take for granted but drops the jaws of out of towners. OH! And we love taking people to Roscoes Chicken & Waffles.
8. What's something about Dylan you hope NEVER changes, and what's something about him that you hope DOES change?
Dylan is obsessed with books and I want him to stay that way. I don't want him to grow up and "hate" reading or think it's "uncool." His anger however? Please go away. Please! Since he was an itty bitty baby he has been a big head-banging, slap happy jerk.
9. What's your proudest motherhood moment?
This question kept me up all night! How could I not have a proud motherhood moment? Am I not giving myself enough credit? Am I trying too hard to find a huge "wow" moment that doesn't exist? I mean, the drive home from the hospital post-birth was pretty amazing. I sat in the backseat and watched him, just thinking that real life was starting at that exact moment and how happy and whole I felt having been done with labor and delivery. I did it! Hey, I feel pretty proud now.
10. List ten random facts about you to let us know more about you:
I take my food so seriously that I refuse to waste my

doughnut

allotted

calories on a beverage. If it's not water, black coffee, or unsweetened green tea, I'm not drinking it. (Excluding alcohol which I drink occasionally.)

I don't like being the center of attention at all...

...and yet, I've had every hair color imaginable. Red, pink, brown, black, white, etc. etc. (That's different right? It's hair.)

I have four sisters, one of which I consider my twin: Angela. Angela can do no wrong, she gets me.

I have boxes and boxes and boxes of journals. When I die I'd like someone to laugh at them. (But please, PLEASE wait until I die...)

My garage is full of paintings I am too embarrassed to hang in my house in fear of coming across as a narcissist. "What? You only hang your OWN paintings?"

My alcoholic drink of choice? Champagne! I'm a very "YAY! LET'S CELEBRATE!" person.

I kept my maiden name. I love my husband's last name but I cant seem to let mine go. I'll change it someday as a spectacular anniversary gift. SOMEDAY.

My first job was at 6 Flags as a ride operator. I've operated all kinds of rollercoasters. Lol

At some point in my life I want to take and pass the California State Bar just to say I did it.
A shred of evidence
Angela
Thank you for the incredibly difficult (but fun) questions Tamara! And thanks for being my first...AAF! Be sure to check out the other bloggers and hosts/cohosts participating in Ask Away Friday!